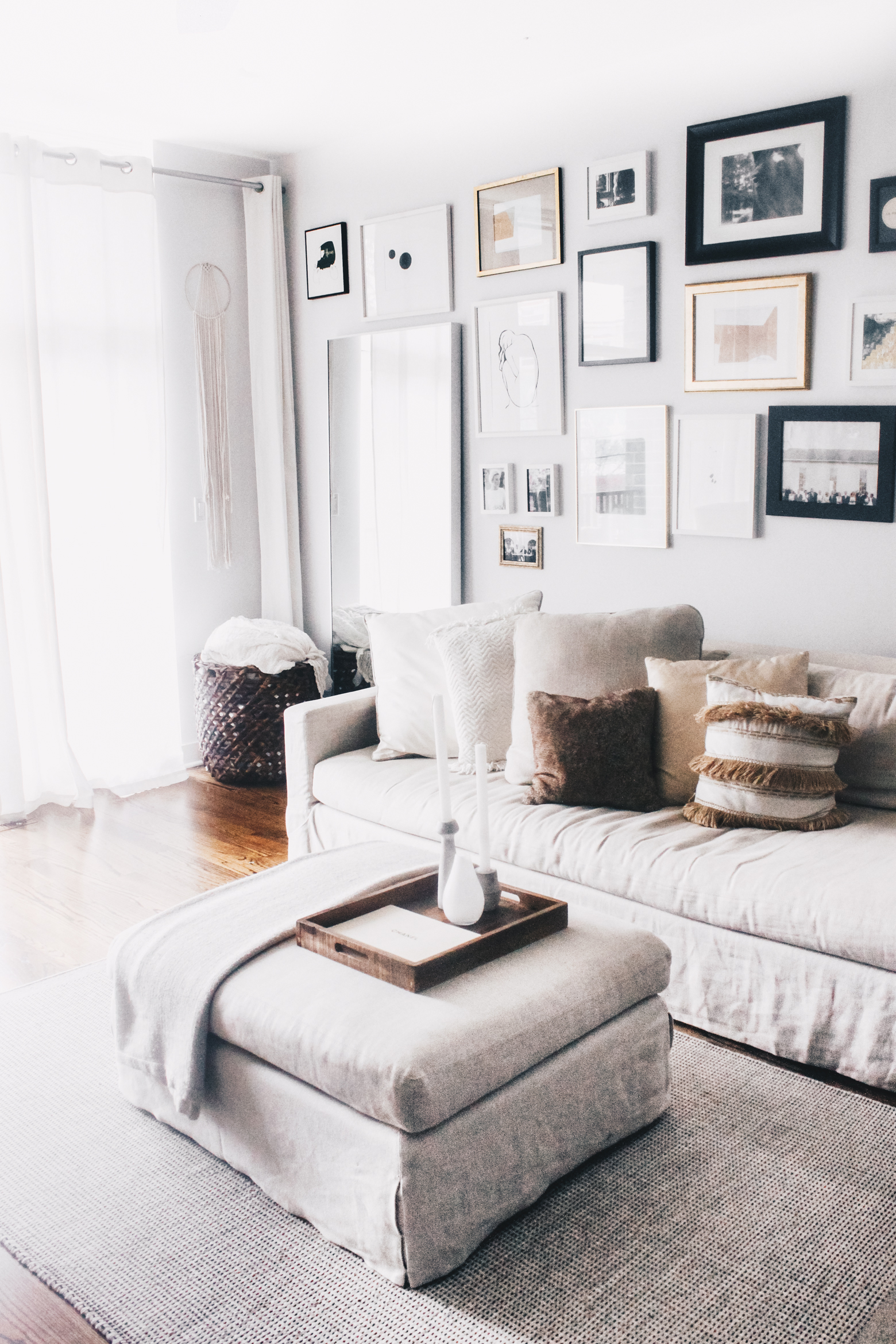 Every so often, I get an intense interior design itch. At some point in my life, I hope to be a rich + famous interior decorator. Until the celebrities start paying me to decorate their homes, I will just continue to practice on my own and tell you guys about it.
*MAJOR HOME SALE ALERT: West Elm and Anthropologie both have big sales going on right now! Anthro is 20% off their home department, and West Elm throw blankets are starting at only $19!
Buying new furniture or a new area rug is expensive (duh) but there are lots of other ways you can give your living room a makeover, that don't break the bank. Making some subtle + inexpensive changes can have just as much impact as that $5k couch you dream about but can't afford right now.
Here are 8 ways you can you revamp your living room on a budget! xx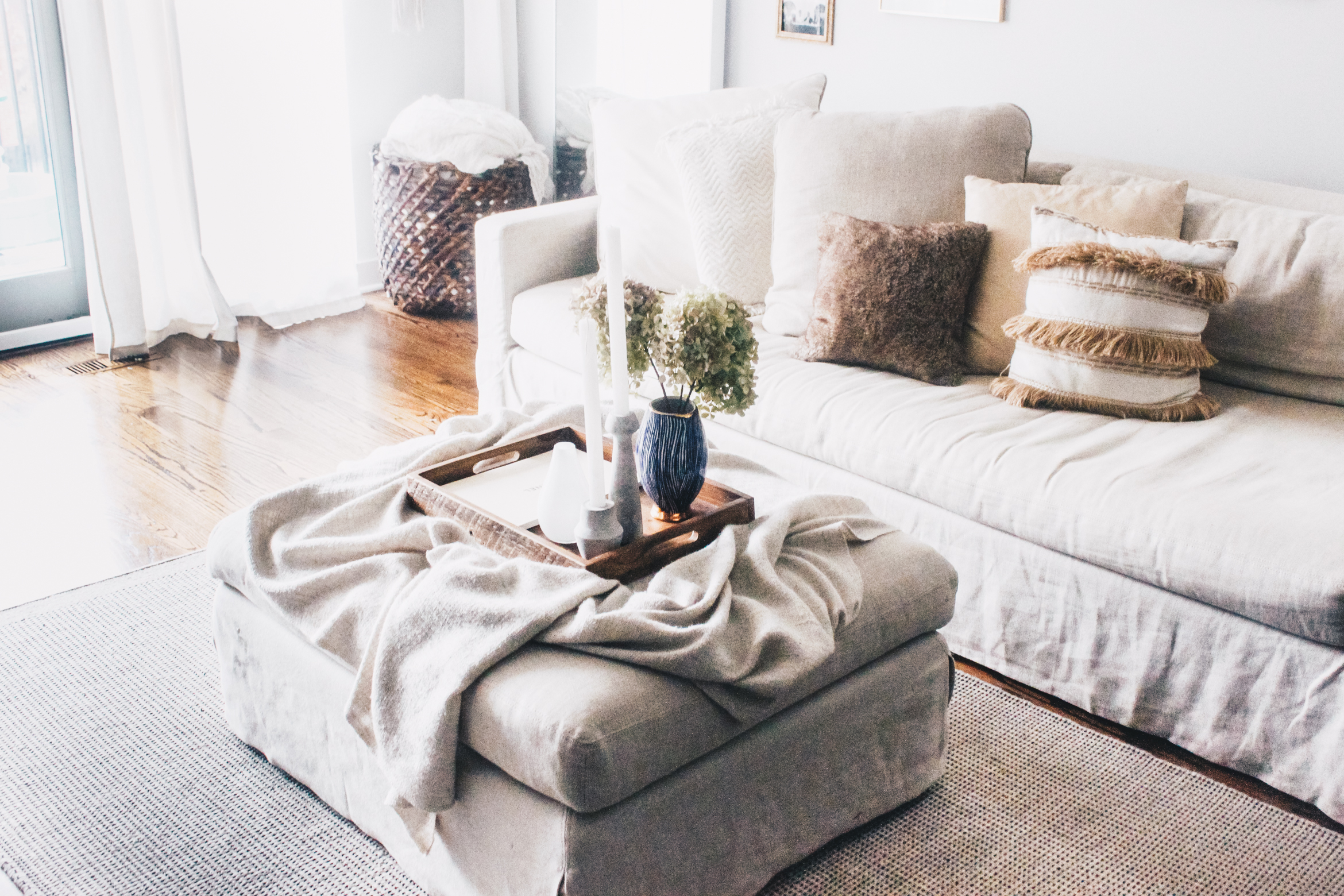 1. Treat your couch to a new throw blanket
Adding a new statement throw to your couch can give the room an instant update. I'm trying to decide on a cozy faux fur blanket (how amazing is that one?!?) to put on our couch for Winter. In case you didn't know, H&M has an amazing home section (online only) and in it you will find beautiful/affordable throw blankets. Of course, Target also has affordable throws, but you probably already knew that. West Elm and Anthropologie actually have a ton of throws on MAJOR sale right now. This giant ombre fur throw is to die for and only $49 marked down from $89!
2. Update your artwork and photographs
Switching up what's in your frames is probably the easiest, most affordable way to revamp your living room. If you are looking for some fresh + beautiful + minimalistic prints, check out Sage Glow Studio. Her pieces are only $20! I have the "Fingers Crossed" print, and I'm so obsessed. The black + white + gold goes so well with my living room. The artist also does custom illustrated portraits, which is SUCH an amazing gift idea for the holidays! Check out my post on how to create free artwork for your home, for more ideas.
To win a print from Sage Glow Studio, head over to my Instagram! We are running a giveaway and the winner will be announced Friday.
Regarding photos: if you are looking for an affordable place to get pictures printed, check out MPix (this is not sponsored, I've been using them for years). They are actually more affordable than Walgreens, and the quality is MUCH better!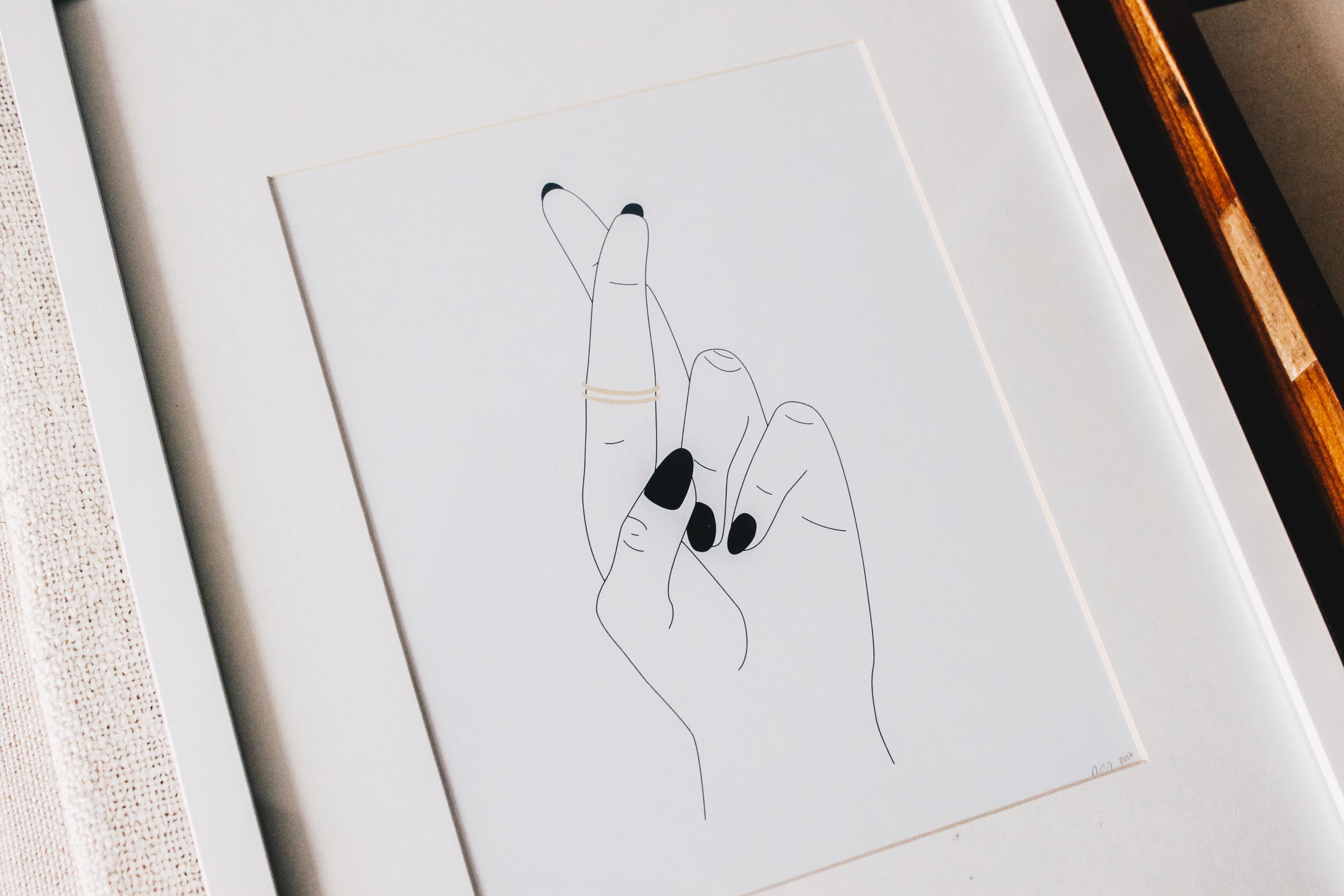 3. Go shopping around your house
Guys, there are ways to add new items to your living room without spending any money! And no, I'm not talking about shoplifting. What I mean is: go on a shopping spree in your own home. In other words, switch out something from your living room, for something in another room.
Recently, I traded a lamp in my living room for the lamp on my night stand, and it gave me quite the thrill. (Does that sound sad?) Go through all the other rooms in your home and try to find small things that will work in your LR. Maybe it's a cool candle from your kitchen, or a decorative bowl from your dining room; recycling items from one room to another is a great way to save money and accomplish a mini home makeover!
4. Add a decorative tray to the ottoman or coffee table
I just replaced our coffee table with the ottoman and it's giving me LIFE! If you are over your coffee table – which I am – but not ready to pull the trigger on a new one, this is your solution! I love the look of a wooden tray on an ottoman, and even more importantly, this is a big space saver if you have a small living room. Here is some good ottoman table inspo from Pinterest, check out my Home Board for more!
I'm a sucker for a decorative tray, I own a few and rotate them. The fun is in styling it! I usually have a vase of flowers, a candle or two, and a set of coasters on the tray. But during the holiday months, I always do a seasonal styling.
5. Change up your throw pillow situation (for cheap)
 H&M Home has a great selection of super inexpensive throw pillow covers that start at only $5, yes I said FIVE DOLLARS! They sell the pillow inserts separately and they are also super cheap: $7 for a 16×16″, and $10 for a 20×20″.
Of course, Target has some cute and affordable throw pillows too! Here are some of my favorites from both H&M and Target:
6. Get a plant
Adding a plant to any room is a surefire way to give it some life. If you don't have a houseplant yet, I promise you will feel a difference when you add one. If you are new to plants and having anxiety about committing to a large one, then start off small. Home Depot always has cute succulents and small houseplants. I have had the same snake plant for 3 years, it started off about 2 feet tall and is now upward of 5 feet!
Here is a great infographic from Brit & Co. that can help you decide what kind of plant to get: The Beginner's Guide to Trendy Indoor Plants
Once you decide on a plant, you'll need something to put it in. Here are some cute indoor planters:

7. Layer a small rug onto your existing one
Layering rugs is a really fun design trick to play around with. Want to find a quality rug for super cheap? I'm about to tell you (for like the 10th time I know) about the best kept secret on the internet:
This is where I found the 5×7 authentic Turkish rug for James nursery, and guess how much it cost? A measly $150! AND SHIPPING IS FREE! And the quality is unreal. I also bought our bedroom runner here. It takes some digging, but if you want an authentic Turkish rug you can actually afford: this Ebay shop is the place to go!
*Important note: These rugs go fast, and most are only listed for like 20 hours at a time! So if you see something you love, pull the trigger because it might be gone tomorrow! Here are some of my favorites that are currently available right now, but probably won't be tomorrow!
I love a good coffee table book. I feel like coffee table books are one of those things you can and should slowly collect throughout a lifetime. Adding a big statement book to your coffee table, bar car, or living room shelf is a great way to spice things up!