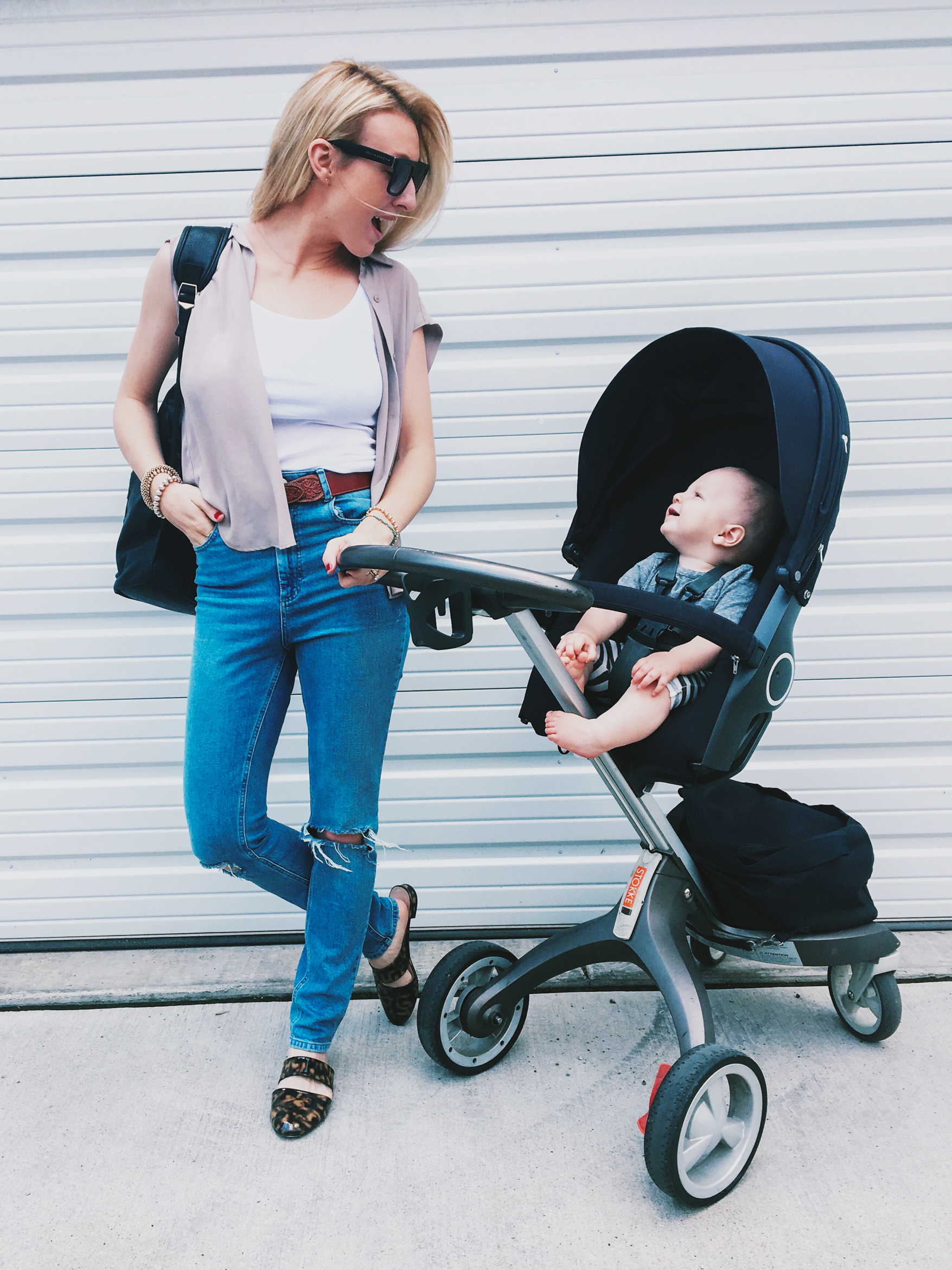 What day is it? I love these weird post-holiday weeks but they always throw me for a loop. I hope everyone had a lovely weekend! We were honestly go, go, go. It was kind of ridic. But, SO much fun! Here is a not-so-brief weekend recap, but feel free to scroll down to the good stuff: THE NORDY'S SALE PICKS!!
We had James first medical "emergency" on Friday. The day started off horribly. Kyle and I were so tired and at each other's throats all morning because we are still SO frustrated about this 5AM wake up situation – update: it is still happening. And as a result, we were taking it out on each other. Then to make matters worse, mere seconds before I was about to put James down for his nap – something I was desperately looking forward to – he dipped his hand into Kyle's PIPING HOT oatmeal that might as well have been boiling water because it was fresh off the stove. It was so awful. He was literally inconsolable for almost an hour. At first we didn't think it was that big of a deal but when we took a closer look at his hand we noticed it was BLISTERING!!! Omg, I die. I felt so bad for him, he was so upset. We called the pediatrician and they said we have to bring him in because "burns are something we need to see immediately" – ?!?!?!? Then I started to freak as I began to realize that maybe this is kind of a big deal. Plus, the way they said it made me feel like James is technically a burn victim now?! UGH. Anyway, he was fine. They told us to put this special ointment on the blisters and warned us they would get bigger which was a total understatement. The next day, it seriously looked like his finger had grown a finger! There was an ENORMOUS blister that was filled with sooooo much fluid. I could barely look at it. He was seemingly fine though; he didn't favor that hand, wasn't acting fussy, and didn't seem to even notice the terrifying new addition to his hand. So, we just waited and waited for it to pop and on Sunday it finally did. I'm weirdly obsessed with popping pimples and blisters (I did NOT pop it I swear, we were specifically advised not to) so I am kind of disappointed I didn't catch it pop. I hope no one is eating lunch while reading this, please skip this section. Anyway, James is fine and the gigantic open wound that used to be the blister, is slowly healing. I just have to lather this ointment on what seems like 100 times a day because as soon as I apply it, he either crawls around and it comes off or……ugh……..he licks it off. Gross, I know. The doctor said that is totally fine and expected but it is driving me nuts. Okay, moving on! The day got better after the oatmeal nightmare. My Mom came down to babysit James because we had a wedding to go to Friday night. I cannot believe we started out the long weekend with a wedding and managed to survive! We had SO much fun celebrating our friends Laura & Brad (congrats, guys!). It was seriously a blast and so beautiful! I have never been to a wedding at Bridgeport Art Center but holy COW it is amazing. If we had decided to get married in the city, that was my #1 venue choice.
Saturday was bru-tal at first, but it turned out to be an awesome day. We were recovering hard. But, we managed to still have a pretty eventful day. My Mom spent the night (TG) and handled the morning shift for us. Then we peeled ourselves out of bed and took James out for a walk and breakfast down the street at Trench. After that we came home and napped, then went to our friend's house for an early dinner. We ate sushi in their backyard while James & Jack played in this amazing tent! We NEED to get one of these for our rooftop. It will be perfect for the beach and picnics too, such great shade! We were in bed by 7pm on Saturday night. Sunday, we had THREE bbq's to go to in the suburbs, we managed to successfully attend all three which really impressed me. It was such a fun but long day and of course I had way too much rose. We spent the night at my parents house and my Mom once again came to the rescue and helped us out in the morning so we could sleep in/recover. We spent the rest of Monday hanging out with our friends on the roof at Chop Shop and put James to bed early. Then, we caught up on Silicon Valley (love that show) and we were literally asleep my 8pm. THAT'S ALL FOLKS!
Okay, on to the real reason you are here. THIS FREAKING NORDSTROM SALE!!!! As always, it is not disappointing. I love Nordstrom but since my style is a bit edgier, I sometimes feel like I don't have the best luck there. However, I really scoured this sale and found some stuff that I'm seriously obsessed with. Happy shopping, ladies! xx
BAGS :
DENIM :
SHOES :
TOPS + JACKETS :
SUNNIES :
DRESSES :
JEWELRY + ACCESSORIES :
ACTIVEWEAR :
BABY STUFF :
MATERNITY :