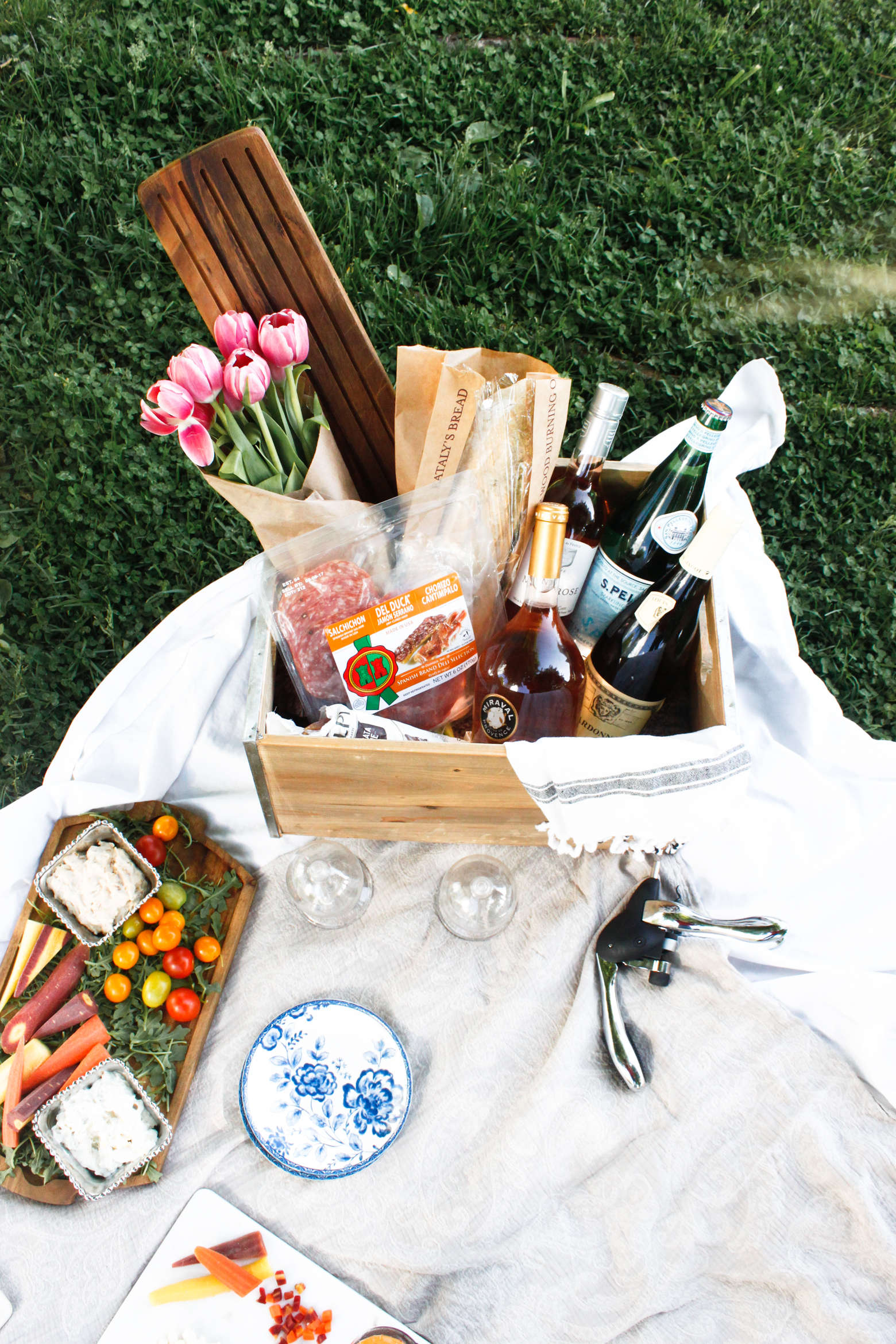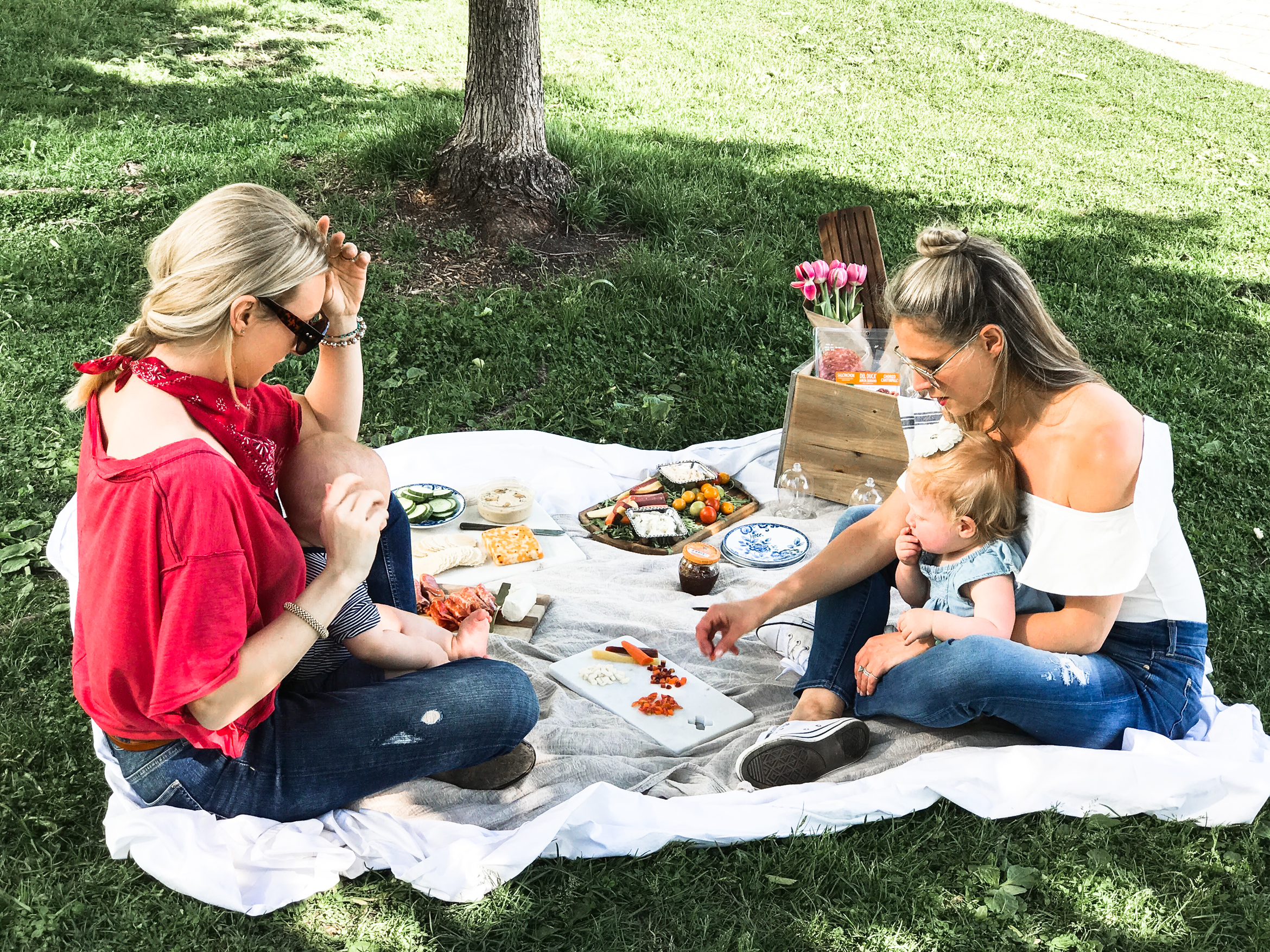 Happy MDW! Today is Friday for me because we have a wedding to attend tomorrow, so HAPPY FRIDAY! I have never been to a Friday wedding but I must say I am LOVING this and don't understand why people don't do it more often. Why not give everyone a 3 day weekend?! BONUS if you pick a holiday weekend and make it 4 days, omg. Our friends have it right. I can't wait! I ordered a million dresses (and this jumpsuit) from Asos and they arrive today. I will let you know which one I choose out of this fun floral long sleeve, this crazy layered peplum dress (a little formal for me but I'm intrigued), this cool black choker maxi (keeping that no matter what because it's SO cute and also practically 50% off!), this pink lacy number (too girly? love the black though!), this mint embroidered mini, and this GORG midi dress that I know won't work for me because I wouldn't be able to wear a bra (hi, breastfeeding boobs). Please let me know your thoughts!
Okay onto this picnic with Katelyn and Blake! This is the second time I've done a picnic-play-date with James and both times have been SO fun and easy. Katelyn is talking more specifically about picnicking with babies over on But First Koffee, be sure to check that out for some awesome tips. She has such good insight when it comes to incorporating your baby into daily life and still finding ways to have fun. I love her baby guides! Her post on traveling with a baby is so good. Be sure to check that out too, we are taking James to Mexico this summer and I'm literally printing out that blog post and laminating it.
Alright alright, I know what you're thinking. This setup we put together looks intense and maybe a little intimidating, but I promise this was so easy to throw together! And, TBH it felt good to put a little effort into the spread – it helped us pretend like we were in Paris – but if you don't have the time, that is OKAY. I promise that throwing down a sheet and bringing whatever you have in the fridge to snack on and eating it out of a non-Instagramable Tupperware will be fun too. I suggest a little rosé for sure though. With all of that being said, do yourself a favor and plan to put together at least ONE "pretty" picnic this summer, because I promise you won't regret it!
Below is my checklist for the perfect picnic basket as well as my go-to list for picnic food…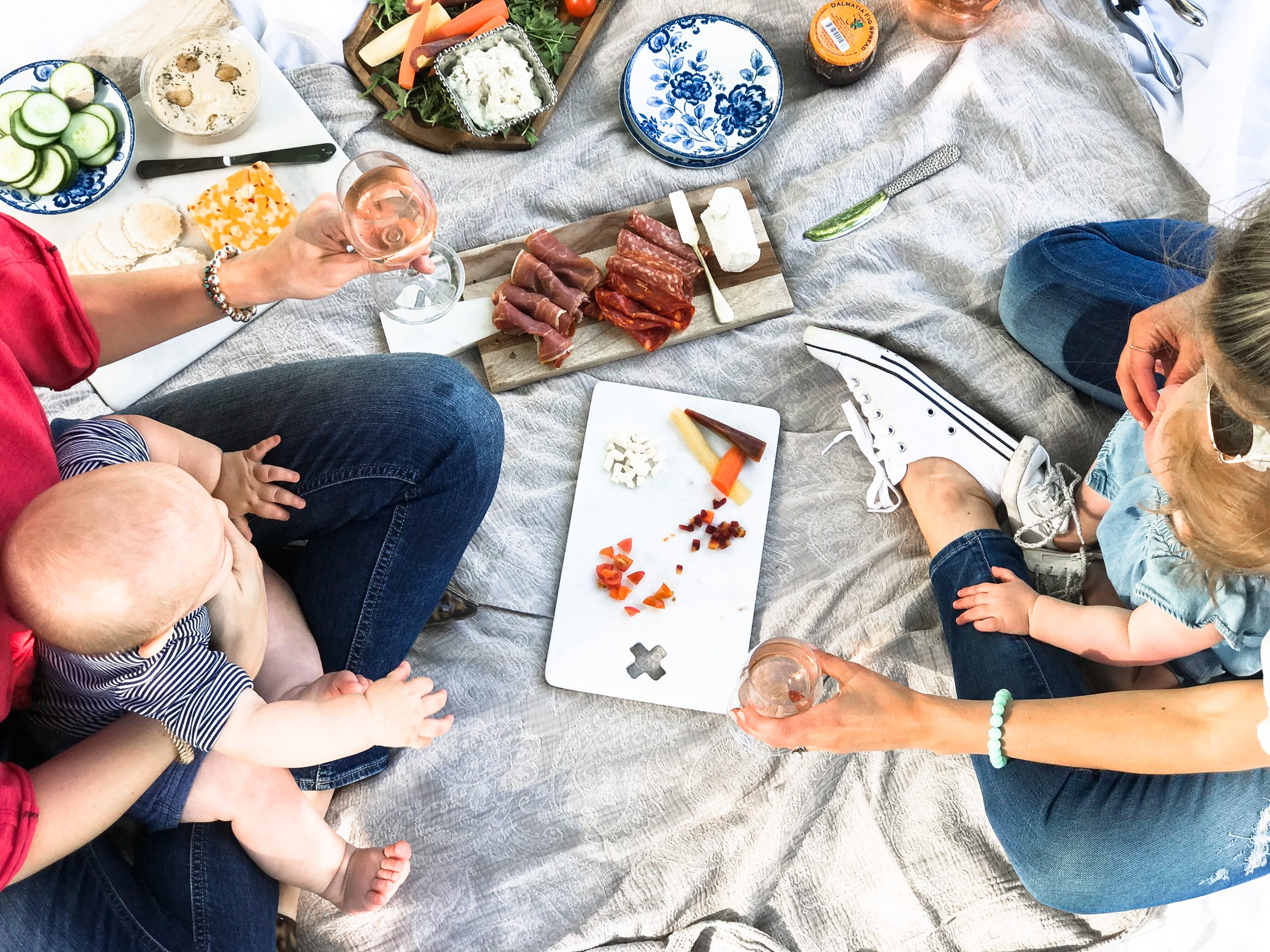 PICNIC PREP CHECKLIST:
Get yourself an actual picnic basket, I love this one and this one! Or, opt for a large insulated cooler bag with handles. Owning one of these will come in handy for picnics, the beach, festivals, lake house weekends, etc. So worth it!

 

Two words: PORTABLE WINE GLASSES. See those glasses we are sipping from? They are plastic and the bottoms screw off. Just buy these now and don't ask questions.

 

Bring one large platter, cutting board, or tray. This marble one that I brought is my favorite possession and so affordable but it's quite heavy. I have this tray and it would have been perfect, or this wooden chopping block! 
A giant old sheet with a cute picnic blanket layered on top.

 

If you are SERI about picnicking and want to go all out, get one of these. Also great for festivals and outdoor concerts!
Forks, knives, and a couple small plates! How pretty are these appetizer plates?!
Lastly, don't forget a garbage bag…
NOW PACK YOUR BASKET:
Cheese and crackers. I always bring a hard and soft cheese! (Goat and sharp cheddar are my favs)

Log of salami

 

Hummus and a sliced cucumber

 

Small scoop of something from the deli: pasta salad, chicken salad, fruit salad, etc.

 

Something sweet but not messy: like chocolate covered pretzels

Rosé or wine! #DUH #DUH #DUH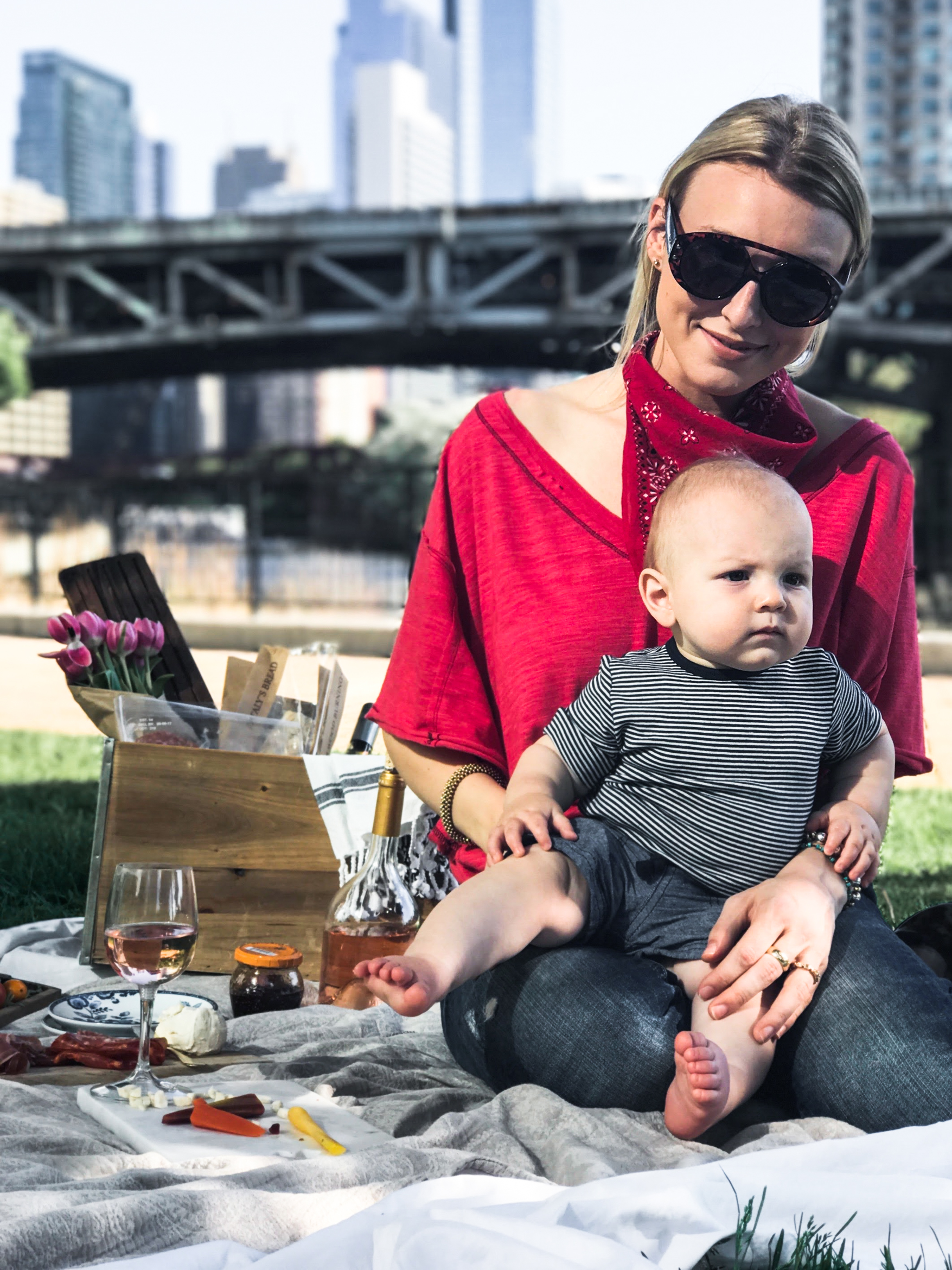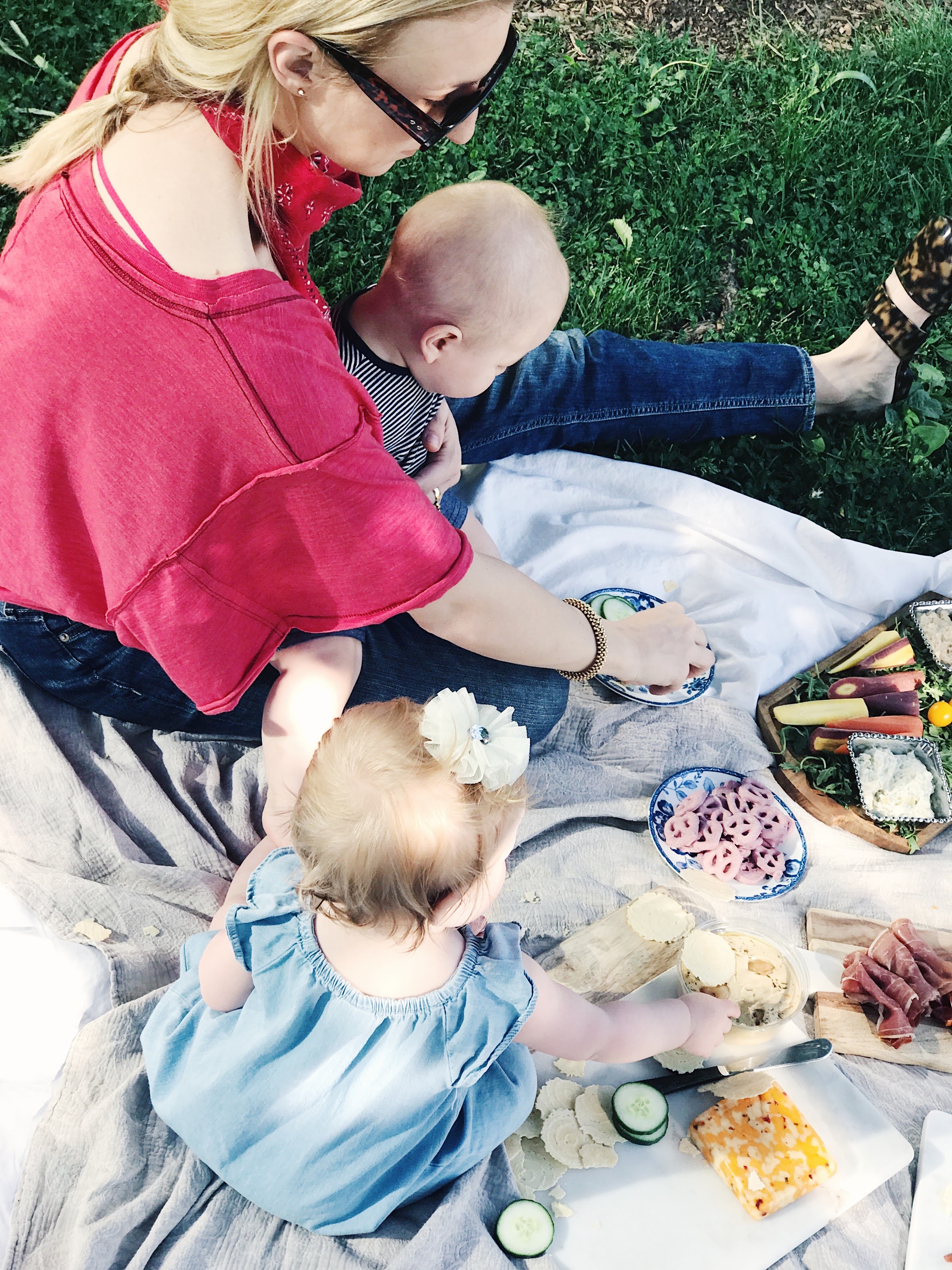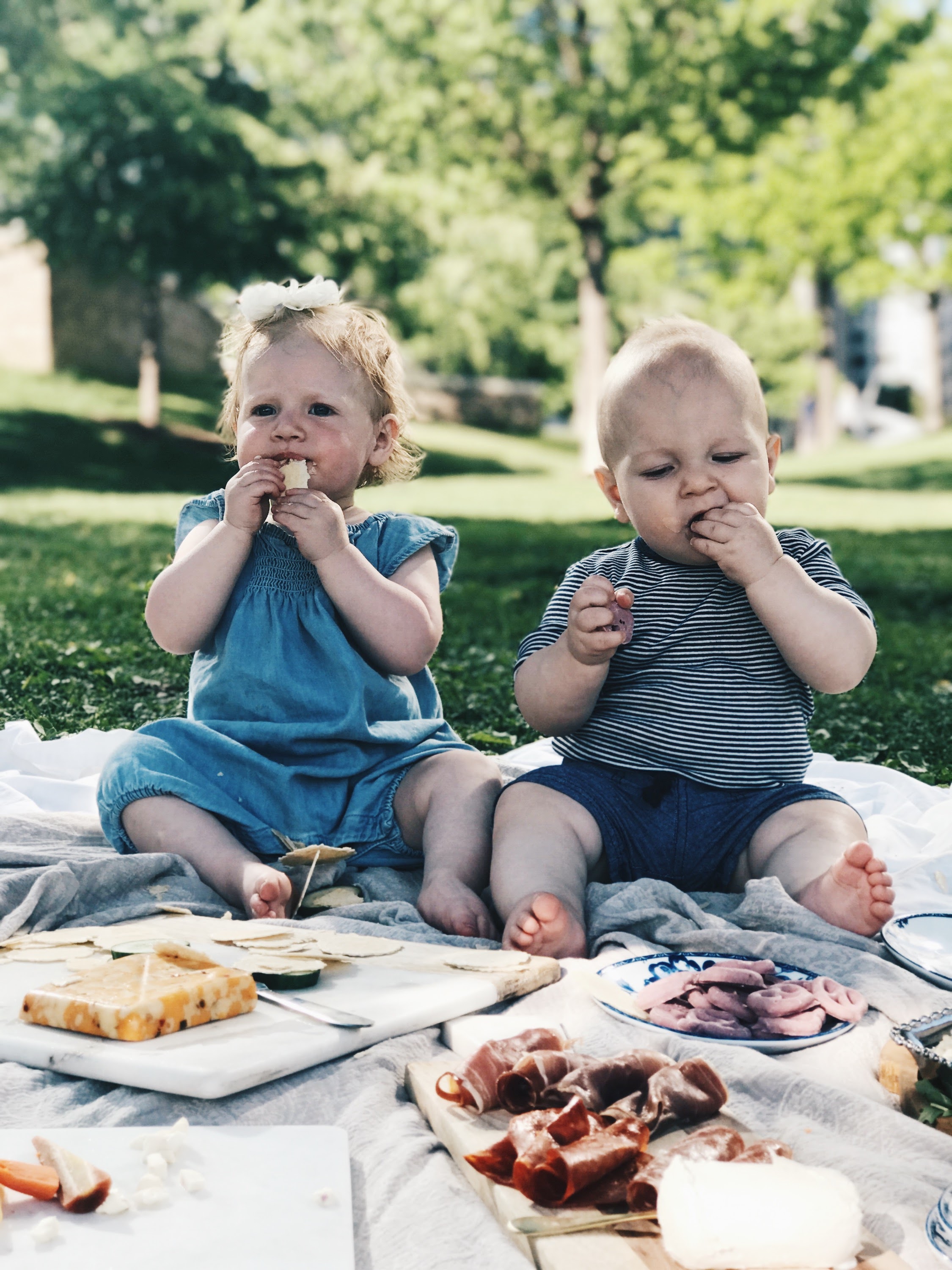 Blake and James are hilarious together. Blake is almost 12 months old but she cruises around like she has been walking her whole life, such a little pro! She is also a pro when it comes to eating real people food. Thanks to her mom Katelyn, the baby led weaning pro. This is something I am still working on with James. Don't get me wrong, he will eat anything and everything that is put in front of his face but I am still struggling a bit in the solids department because to be honest I find them to be a huge pain. The whole process has been overwhelming. I am also still terrified of him choking, so I'm not giving him as big of chunks as I probably should be. #Sigh. We skipped baby foods and purées and I just mash everything and let him eat with his hands, however I don't think I'm doing a good job helping him develop his pincer grip which is something I'm working on this week. Ugh. #Solidsproblems.
Anyway, during this picnic I was trying to be cool and laid back and let James eat the chunks that Katelyn had prepped for Blake and he did a really good job! I had one freak out because he hoarded what seemed to be a GIANT hunk of tomato in his mouth for like 30 minutes, but Katelyn helped keep me calm and assured me he wouldn't choke. And he was fine! I need to chill. In my own defense, I had a kid choke once when I was babysitting and it scarred me for life (he is fine, btw!). As far as food for the babes, we just let them pick at what we were eating and also packed some steamed carrots!