I swear I'm not a hippie dippy mom who is going to make James the weird kid in class who has to bring his own creepy gluten free/sugar free/dye free/flavor free cupcake for his classmate's birthday while everyone else eats regular ones. However, I'm a pretty religious label-reader.
A few years ago I became hooked on the EWG Skin Deep app and began scanning all my beauty products to find out their toxicity level. It was a slippery slope but I'm glad I did it. Then, my research obsession really kicked into high gear while I was pregnant. I spent a ton of time reading about non-toxic baby products. If the info is out there, and there are alternatives to the toxic stuff – then why not use them?! I will make this as simple and painless as possible and promise not to get into too many dirty details. ALSO! If you have any products that you love to use, please please share!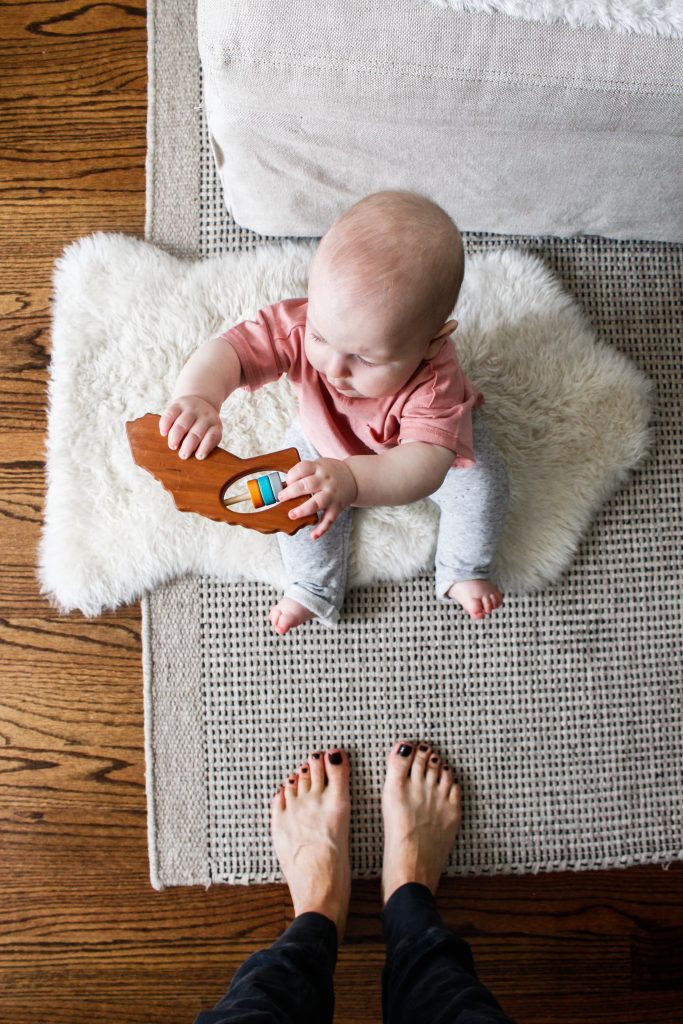 MUST HAVE CURE-ALL BABY BALM:
This Green Goo Baby Balm is GOLD. It is my go-to for everything. I used it on James when he had all those weird newborn skin issues (cradle cap, baby acne, etc.). It is made of all natural oils and 100% non-toxic. His cheeks were so dry and rosy in the winter and this stuff was a miracle cure! You can also use it for baby eczema, diaper rash, moisturizer, you can literally put it anywhere on anything! I bought two, one I used for his face and the other I used for his body.
DAILY DIAPER CREAM:
I swear by Babo Botanicals diaper cream! I use a little on James probably every other diaper (always after dirty diapers) and I lather it on at night. I promise he has never had a diaper rash. Stay away from Desitin, it contains a chemical called BHA that is a known endocrine disruptor (chemicals that alter the endocrine system and can cause cancer). Also, I use pure coconut oil in the diaper region ALL the time. It has natural antibacterial properties that can help prevent and cure diaper rash.
SOAP/SHAMPOO:
Again, Babo Botanicals for the win! This stuff is a 3 in 1: shampoo, body wash, bubble bath. It works great, doesn't burn, and smells delicious. I love the soothing lavender scent which is made with natural essential oils, NOT fragrance – stay away from anything with the word "fragrance" in the label! Stay away from Johnson & Johnson's bath soap because most of their soap contains parabens, fragrance, and artificial coloring.
LOTION:
I switch off between pure coconut oil, Babo Botanicals Moisturizing Lotion – we use the Oatmeal & Calendula scent, and Green Goo Baby Balm – this stuff is expensive though and so I don't use it as a full body moisturizer every day, just when he's in need of extra moisture like in the winter!
DISPOSABLE DIAPERS:
Bambo Nature. We started with Honest Company diapers (I have mixed emotions about Honest but their diapers have been deemed okay) but the leaking got out of control so we ended up switching to this brand Bambo Nature. They are only available on Amazon but they are about the same price as Honest and better in every way! They handle blowouts waaaaay better, NO leaks during sleep, and they are basically the least toxic diaper on the market.
WIPES:
We use Honest Wipes! Below is a list of other non-toxic wipes that are supposed to be good but I haven't used any of them. However, they are wipes. Like, we could be using a wet paper towel and calling it a day here so I don't think you can go wrong with any of these!
TEETHERS:
At first when I read about wood teethers I was skeptical. I thought that sounded awful. But omg was I wrong! Wood is the way to go! James is OB-SESSED with this Plan key ring (they have awesome wooden toys made for each stage of development) it's a bit pricey but SO worth it – James is 7 months with 4 teeth and I would literally pay $100,00 for any teether that actually works. Other awesome non-toxic teethers that work:
*NOTE: Stay away from Infantino! Their products re loaded with toxic stuff!
BIBS:
Anyone else insanely surprised at how much drool a baby can produce??? Like WHERE does it come from!!?!? They are like little water fountains. I didn't register for cute bibs and that was a huge mistake. The drool and spit up struggle started around 3 months for James. I got sooooo sick of changing is soaked clothing a million times per day, so cute bibs became our best friend! Here are some of my favorites:
CLOTHING:
Okay, so this is kind of a tough one. I don't always have James in organic cotton but I really try to make sure not to put him in clothing that has an overly ridiculous amount of chemicals and irritants in them (ahem, Carter's – which is the same as OshKosh B'Gosh btw). Organic clothing is expensive so it's just not that reasonable to have a baby who lives in it! However, every night he sleeps in a Burt's Bees Baby organic cotton body suit  (under this sleep sack). Burt's Bees Baby is the best option for affordable organic clothing. And it is SO soft and quality. Other organic clothing brands:
DISH SOAP:
I go through Better Life dish soap like crazy. We use it to wash all of my breast pump parts and James' bottles. It is a larger/accessible brand that actually works! I love when that happens. No fragrance or toxic chemicals!
LAUNDRY DETERGENT:
I get this Greenshield Organics laundry detergent at Whole Foods! It's expensive but a little goes a long way and it lasts. I have super sensitive skin – and I fear James has inherited it – so I always use organic, fragrance free detergent.
Have I missed anything you were hoping to find on here? Please let me know! I love talking about this crap. So feel free to let me know if you ever have any questions! 🙂
*I want to go ahead and shout out this woman's amazing blog where I did the bulk of my research while I was pregnant. She is the rockstar who REALLY does the research, but I have tried most of the products she recommends and I wanted to relay the ones I've had success with! She really gets into detail about the science of why all this stuff is better than the toxic products (and talks a lot about what makes the toxic stuff toxic) so if you have a few hours to spare check out her site because, warning: it's like falling into a rabbit hole, once you start it's hard to stop!*
Now for a few more pics of James because I'm obsessed with him.